When my step-sister told me she wanted to have an Irish Themed Baby Shower, I was beyond thrilled! We're huge St. Patrick's Day fans and we love our Irish roots so this was perfect for me. This type of party would be great for an Irish Themed Baby Shower, Bridal Shower, or even St. Patrick's Day party.
I made a lot of the decor and the sponsors and companies I used are at the bottom of the post. If you have ANY questions on how I did anything, please let me know via comment or email and I'll help ya out!
Enjoy
Starting with Invites which I got from Expressions Paperie: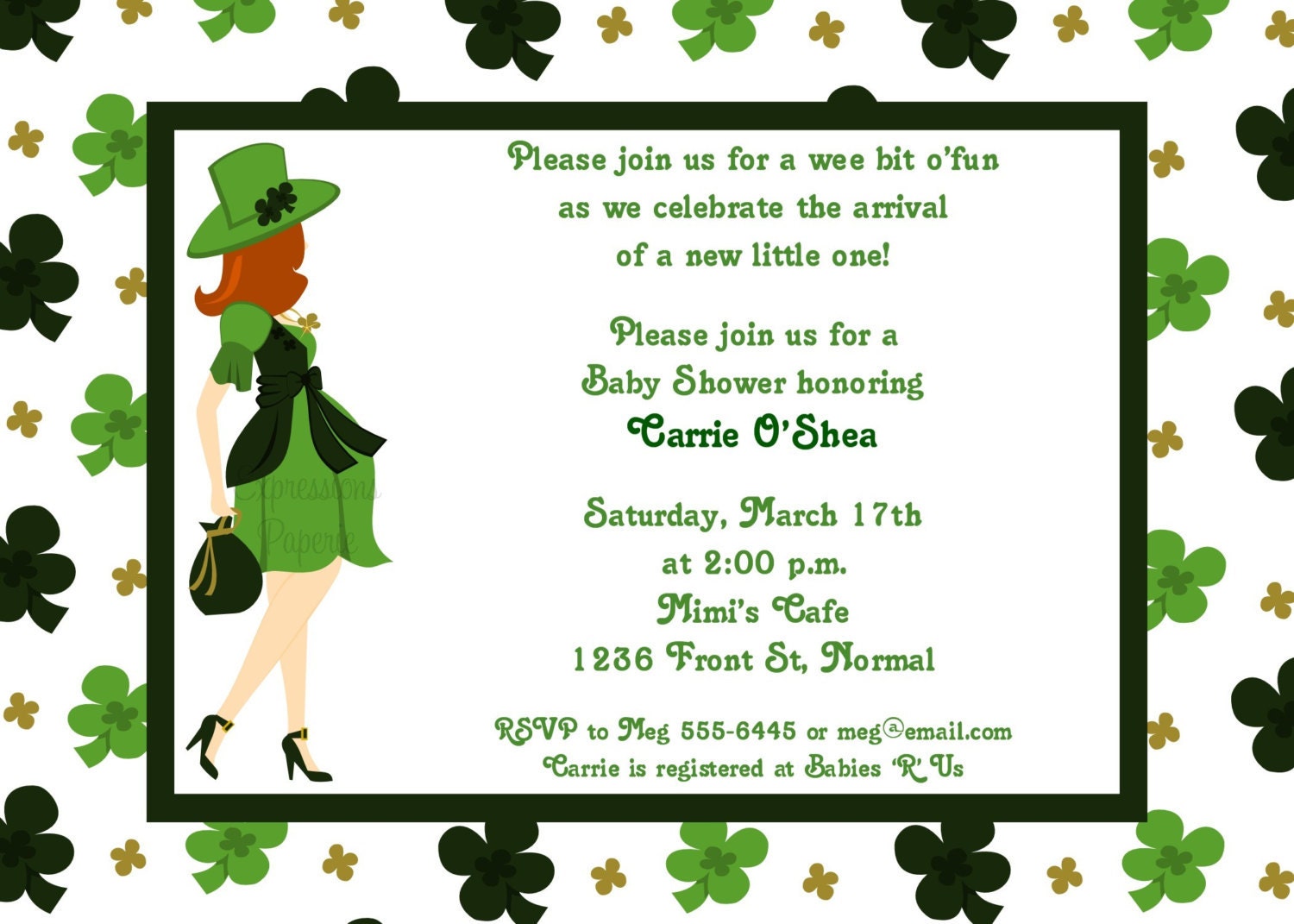 Irish Diaper Wreath
Irish Diaper Cake!
All of the Green!
I hand painted Frame with a little Irish Baby Blessing:
"Bless Your Little Irish Heart, And Every Other Irish Part"
Here's a 3rd frame which I painted, stenciled, and added the trim also.
Also made some tissue paper flower accents, a Tissue Paper Flower Centerpiece, and Green Scrapbook Paper Heart Banner
Here's the mantle all together
Vanilla Cupcakes with Green Sprinkles
Candy Buffet!!! Courtesy of ACandyStore.com. These are Green Apple Gummy Bears (these were delicious and smelled amazing), Green Watermelon Jelly Beans, Green Sixlets, and Mints.
I made the jars with candlesticks and vases from the dollar store. To spruce them up  I added a Green Ribbon and a shamrock to the vases.
Here's a close up of the Tissue Paper Flower Bouquets which I added some ribbon too and put in these green vases.
Game Table with Tissue Paper Flower Accents
Wishes for Baby
Sweet notes for Mom and Dad where you write messages on diapers.
Cute Gender Guess using mustaches or lips. Each guest picked their guess and we took some fun pictures!
Here's a great view of the room.
Tissue Paper Pom Poms on the ceiling sponsored by PomLove.
The Mimosa Bar has a green satin cloth cover from WholePort.com
I made this super cute Shamrock with Scrapbook Hearts cut with my Cricut and sewn together.
Mimosa Bar!
This Green Confetti from PomLove was SO fun and really pulled all of the tables together.
Tissue Paper Pom Poms are SO awesome!

Brunch Buffet, Fruit Salad, Chicken Salad Croissant Sandwiches, Brie, Crackers, Asparagus, and Quiches.
A Baby Shower Sorbet Punch with Rubber Duckys!
Hershey Bar Gender Favors and I added a Green Yarn Pom Pom ball on a green stick to add some Irish flare.
Shamrocks and Green Galore
This custom embroidered shamrock blanket was made by the amazing Five Stitches Embroidery. She's amazing and I've now purchased a few blankets from her that everyone loves.
And here's me, my Gorgeous Step Sister and Baby Irish!
Who also happens to be Italian married to an Irishman named Brian 😉
Let me know if you have any questions!
HUGE thanks to my sponsors: Expressions Paperie, PomLove, WholePort, and ACandyStore.com