You know what I wish I would have had when I was pregnant with my beautiful children? A guide. Not the kind you find at a bookstore that look amazing and are full of fabulous stories. I mean a guide from a down in the trenches woman who has been there and won't pretty up the realities of pregnancy and child birth. Maybe it could even come with a survival kit. This real-life mom's must haves for all newly pregnant or delivered moms. I bet people would snatch them up!
But wait! I am one of those women! I've been pregnant, I've delivered children. I've had those not so nice issues and symptoms that most women will experience. So maybe I can come up with a survival kit for these women, and maybe there will be something you've never thought of before, or that no one has the guts to tell you about!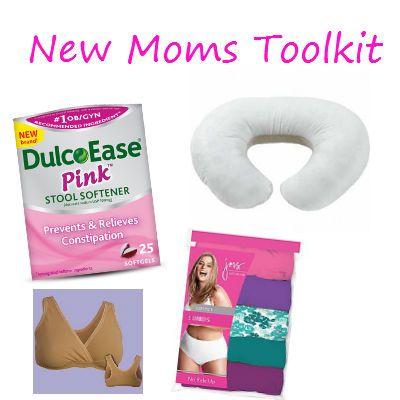 My first must have is a sleep bra. Those babies will be growing, changing and so sore for the first few months of your pregnancy you won't believe it. Then once you have the baby?! If you nurse, they hurt, if you don't, they hurt. Having them contained at all times is a must!
Next is a feeding pillow. Once your precious bundle arrives you'll have to feed it. You will have to hold it when you do, and your arms will get tired! A good feeding pillow will be essential for your back and arms!
The next must have is, well, a little taboo. It shouldn't be, because we all have this problem at some point, and we are all adults here. So here goes. You'll need a good stool softener. When you first become pregnant your body changes so quickly that your digestive system can rebel in lots of ways, including constipation. Then once you deliver? It can hurt to go. You just had a baby and things are painful! So why not make the process as easy as possible? I recommend
DulcoEase
® Pink™, because it works. It also contains #1 OB/GYN recommended stool softener ingredient*, and it is from the makers of #1 consumer preferred stool softener, so you know it can be trusted. It is gentle, working with your body to prevent and relieve constipation by softening dry, hard stools, making it easier and more comfortable to have a bowel movement. DulcoEase® Pink™ is a product you should talk to your doctor about, because it can be a huge helper during this time in your life. To try out DulcoEase, be sure to grab the
coupon
!
My last must have is good, sturdy, comfy underwear. You know. Granny panties. Now is not the time for cute panties with lace and bows and cute sayings on them. You will need the comfort both during the pregnancy and after birth, especially if you have a c-section, and there will be plenty of time for sexy later!
I so wish that someone would have come up with a guide and survival kit like this for me when I had my first child, it could have saved me a lot of time looking for products, and a lot of discomfort trying to figure out ways to alleviate my aches, pains and various other ailments. I hope that my list helps you, just a little, and that you pass it along to anyone who might need it!
Every new mother's toolkit should include
DulcoEase® Pink
™,
the #1 OB/GYN recommended ingredient* for going #2. So if you are pregnant or breast feeding, ask your doctor if you should think
Pink
. Find savings on
DulcoEase® Pink
™
at www.MomsTalkDulcoEase.com!
*Among stool softener ingredients
This is a sponsored conversation written by me on behalf of DulcoEase® Pink™. The opinions and text are all mine.